Dell Precision T5820 Xeon W-2223 16GB 512SSD+2TB T1000-8GB Win11ProDG (SNST582013)
Dell Precision T5820 Xeon W-2223 | SNST582013
Dell Precision T5820 Xeon W-2223 16GB 512SSD+2TB T1000-8GB Win11ProDG | (SNST582013)
OS : Windows 10 Pro for Workstation (Includes Windows 11 Pro License)
Intel Xeon W-2223 (3.60GHz, 4 Core, 8.25MB Cache)
16GB (2x8GB) DDR4 2933MHz RDIMM ECC Memory
512GB M.2 PCIe NVMe Class 40 Solid State Drive  + 2TB 3.5″ 7200RPM SATA Hard Drive 
Nvidia T1000 8GB (4 mDP to DP adapter)
16x Half Height DVD-/+RW Optical Drive
Dell Keyboard KB216 Black (Thailand)
Dell Optical Mouse MS116 Black 
950W PCIe FlexBay Chassis  (input voltage 100VAC – 240VAC) –90% efficient (80PLUS Gold Certified)
3Years Pro Support NBD OnSite Service

Note : Not include Monitor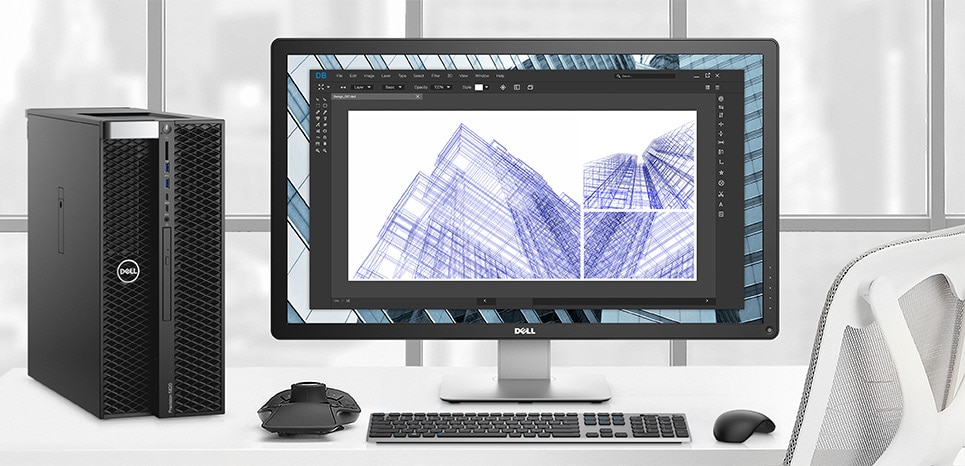 Blazing fast performance
Brainpower that matches yours:
 The latest Intel® Xeon® processor powers your most demanding applications. Now featuring a new generation of single-socket architecture with up to 18 cores, you can extract maximum performance for your biggest ideas.

Accelerate every project:
 Run your software as fast as possible and get real-time results thanks to this memory expandable machine with up to 512GB of 2666MHz RDIMM ECC memory (not available with Core X CPUs).
Drown out distraction: Focus on your tasks with the workstation that's quieter than ever. A new multichannel thermal design delivers advanced cooling and acoustics, for enhanced cooling and quiet operation when your system is under heavy workloads.
Built for your future
Room for more:
 Your Precision 5820 Tower grows with your ideas no matter where they take you, thanks to a new chassis that combines a versatile design with outstanding storage scalability.
Adapts to your innovations: Your Precision 5820 Tower is ready for complex projects, including virtual reality and AI workflows, with the next generation AMD Radeon Pro™ and highest-performing NVIDIA® Quadro® RTX graphics. Your workstation supports up to 600W of graphics up to 300W per card (950W PSU required). 
No project is too big: Up to six 2.5″ or five 3.5″ drives and front access storage including SATA, SAS (not available on systems with Core X CPUs) and PCIe M.2/U.2 NVMe SSD can be configured for up to 68TB total storage and easily swapped. With the hot-swap feature on the M.2 and U.2 PCIe NVMe SSDs, you can remove drives without shutting down the workstation.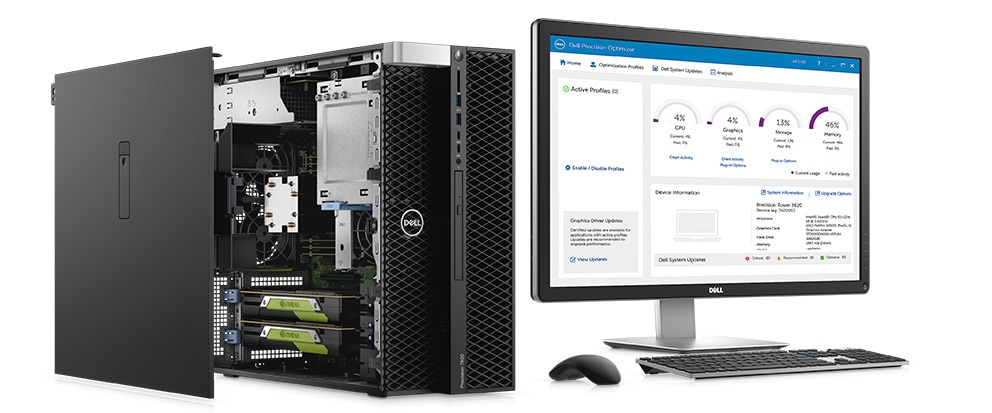 Improve productivity with the Dell Precision Optimizer
Tuned performance:
 Free with your Precision workstation, the Dell Precision Optimizer delivers faster application optimization with a single click compared to HP Advisor. It also automatically tunes your workstation to run popular ISV applications at the fastest speeds possible, has automated system updates and provides analytics to address resource bottlenecks.
Premium customized performance: Upgrade to the new Dell Precision Optimizer premium version, the world's first AI-based performance optimizer software for workstations.
This program learns the behavior of any user-specified applications, identifies optimization opportunities using machine learning and applies performance improvements.
Reliability where it matters most

Stay safe, stay secure: Reduce downtime with Dell Reliable Memory Technology (RMT) Pro. Designed to work with ECC memory, RMT protects your machine from potential crashes by mapping out bad memory locations after the system reboots.

Reliably access your data: Improve the availability of your data with hardware and software optional RAID storage options including PCIe NVMe SSDs and optional Smart Card (CAC/PIV) readers that let you determine who can access your system.

Your work can count on it: Precision Workstations are tested to ensure the high-performance applications you rely on every day run smoothly. Dell ISV-certifications cover the most popular independent software applications.
Al-ready Data Science Workstations

Intelligently designed for Data Scientists. The latest Precision Data Science Workstations utilize Al to empower users to get their most important work done faster by fine-tuning their devices for optimized performance of the applications they use the most.
Manage and secure with ease
Ultimate convenience

Manage all of your Windows 10 endpoints from one console with Dell Client Command Suite and VMware® Workspace ONE™ integration.

Comprehensive threat prevention

With SafeGuard and Response, you have the tools and security experts to protect your ecosystem from cyber threats, giving you the freedom and peace of mind to focus on other strategic initiatives.

Remotely manage

Dell unique vPro extensions can remotely manage and run diagnostics on a fleet of devices, whether they are powered on or off.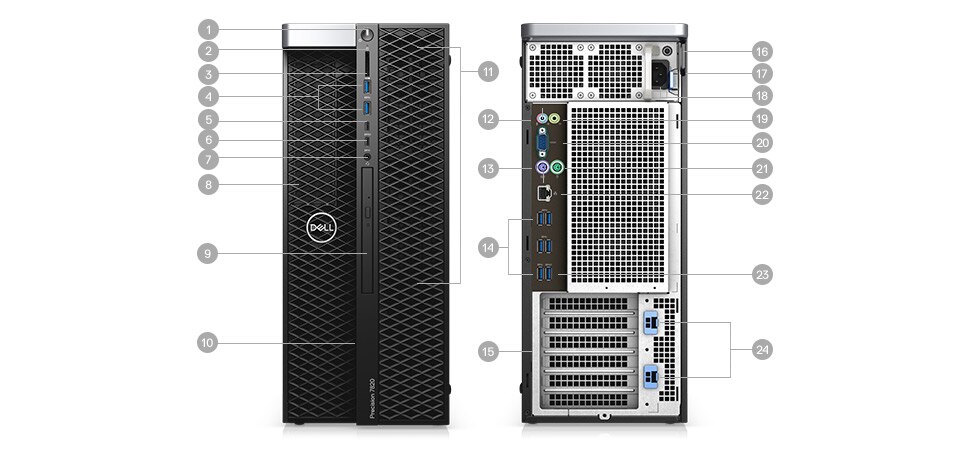 Ports & Slots
1. Power button/Power light | 2. Drive activity light | 3. SD card slot | 4. USB 3.1 Gen 1 ports | 5. USB 3.1 Gen 1 Type-C port with PowerShare | 6. USB 3.1 Gen 1 Type-C port | 7. Headset port | 8. 5.25 inch bay (optional) | 9. Optical drive | 10. Drive access release latch | 11. Drive carriers | 12. Microphone/Line-in port | 13. PS/2 Mouse port | 14.USB 3.1 Gen 1 ports | 15. Discrete graphics card slot (optional) | 16. Padlock ring | 17. Security cable slot | 18. Power cable connector | 19. Line-out port | 20. Serial port | 21. PS/2 Keyboard port | 22. Network port | 23. USB 3.1 Gen 1 port (supports smart Power-On) | 24. Expansion card slots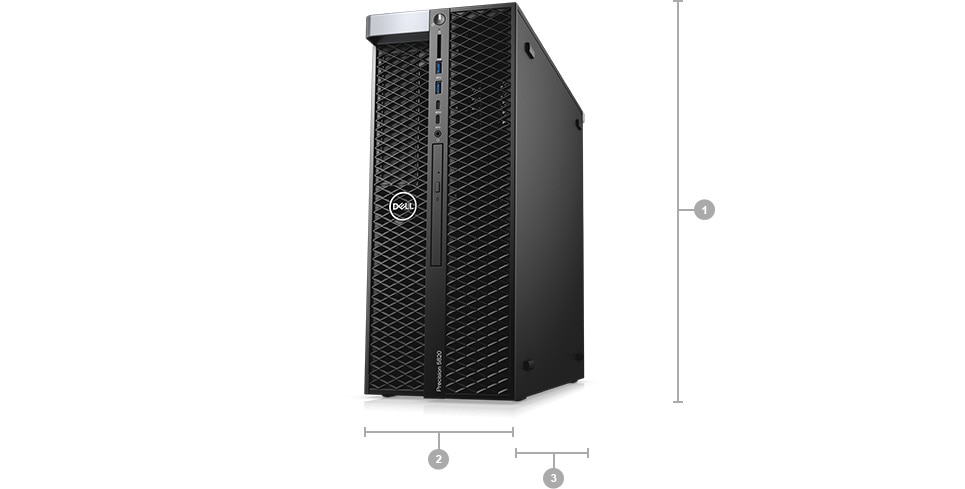 Dimensions & Weight
1. Height: 417.9 mm (16.45") | 2. Width: 176.5 mm (6.94") | 3. Depth: 518.3 mm (20.4") | Starting weight: 15.9kg (32 lb)