Lenovo ThinkSystem SR635 Rack Server 1U
Lenovo ThinkSystem SR645 Rack Server 1U
1P/1U tuned for virtualization & Hybrid IT
Large memory capacity.
Vast storage capacity
Versatile storage configurations/AnyBay
Flexible I/O configurations.
Scalable networking configurations
Enterprise-class RAS features
ThinkShield Security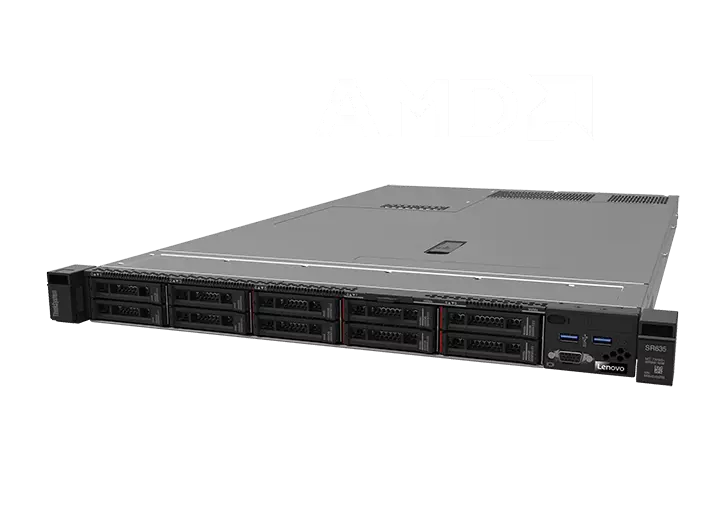 Technical Spec
ATTRIBUTE
SPECIFICATION
Form Factor
1U rack server
Processors
Up to two (2) AMD EPYC™ 7002 / 7003 Series Processors, up to 64C, 280W
Memory
32 DDR4 memory slots; Maximum 4TB using 128GB RDIMMs; 2DPC at 3200MHz
Drive Bays
Up to 4x 3.5-inch or 12x 2.5-inch drives; Maximum of 12x NVMe drives with 1:1 connection
Expansion Slots
Up to 3x PCIe 4.0 slots, 1x OCP 3.0 adapter slot
GPU
Up to 3x single-width 75W GPUs
Network Interface
OCP 3.0 mezz adapter, PCIe adapters
Power
Dual redundant PSUs (up to 1800W Platinum)
Ports
Front: 1x USB 3.0, 1x USB 2.0, 1x VGA (optional)
Rear: 3x USB 3.1, 1x Serial port (optional), 1x RJ-45 (management)
Systems Management
Lenovo XClarity Controller
OS Support
Microsoft Windows Server, SUSE Linux Enterprise Server, Red Hat Enterprise Linux, VMware ESXi
Limited Warranty
1- and 3-year customer replaceable unit and onsite services, next business day 9×5, optional service upgrades
Skillful performance
The ThinkSystem SR645 delivers extreme levels of core and memory density in 1U to readily handle enterprise data center workloads such as database, analytics and virtualization deployments. Maximize server utilization and decrease network bottlenecks with 128 processor cores from two AMD EPYC™ CPUs, world class memory speeds and 128 PCIe Gen 4.0 lanes.

Versatile design 
Flexible storage configurations, support for up to 3x single-width GPUs, and across-the-board use of PCIe 4.0 slots eliminate bottlenecks to maximize enterprise efficiency. Utilize the SR645 in analytics deployments to gain better business insights and take control of the growing volume, variety, and velocity of data. 
Innovative management 
Lenovo ThinkSystem SR645
Combines Lenovo XClarity management, ThinkShield security features, and Lenovo Services to help make the deployment, management, and servicing of the system simple and highly secure. 
The XClarity Controller utilizes a dedicated management engine installed in the system that in tandem with XClarity Administrator enables a data-driven, centralized view of data center operations. 
บริการ
---
นอกจากนี้ความต้องการของคุณนั้นเจาะจง และต้องการที่ปรึกษาผู้เชี่ยวชาญและช่างเทคนิคของเราสามารถตอบสนองความต้องการเหล่านั้นได้ด้วยประสบการณ์ในอุตสาหกรรมที่กว้างขวางและความรู้ทางเทคนิคเชิงลึก

บริการโซลูชั่น
ออกแบบกลยุทธ์ที่ดีที่สุดสำหรับองค์กรของคุณ เราจะทำงานร่วมกับคุณเพื่อหาทางออกที่เหมาะสมสำหรับความต้องการเฉพาะทางธุรกิจของคุณ

บริการดำเนินการ
เร่งเวลาของคุณสู่ประสิทธิภาพการทำงาน เราจะช่วยคุณปรับปรุงการใช้เทคโนโลยีใหม่ๆ เพื่อให้คุณสามารถโฟกัสกับธุรกิจของคุณได้

บริการสนับสนุน
ปกป้องการลงทุนด้านไอทีของคุณ ผู้เชี่ยวชาญของเราพร้อมให้ความช่วยเหลือทั่วโลกตลอดเวลา – 24/7/365