HPE Simplivity 325 Gen10 Plus
HPE Simplivity 325 Gen10 Plus (Promotion Set)
HPE Simplivity คือ Hyper-Converged Infrastructure หรือ HCI ที่ตอบสนองการใช้งานที่หลากหลายไม่ว่าจะเป็นการ In-line Depuplication, Compression, WAN Optimize, Backup, Restore VM หรือ File ที่รวมอยู่ใน Server เพียงเครื่องเดียว เพื่อลดขนาดพื้นที่ และความซับซ้อนของการติดตั้ง โดยสามารถ Manage VM, Storgae, Federation, Monitoring, Backup และ Restore ได้ผ่าน vCenter เพียงหน้าเดียวเพื่อลดความยุ่งยากของ Admin หรือ IT Support
HPE Simplivity 325 Gen10 Plus (2 Nodes)
1 Node ประกอบด้วย
HPE SimpliVity 325 Gen10 Plus v2 8SFF Configure-to-order Node

AMD EPYC 7313P 3.0GHz 16-core 155W Processor for HPE

256GB (8x32GB) Dual Rank x4 DDR4-3200 Registered Smart Memory

2x HPE 480GB SATA 6G Read Intensive SFF BC Multi-Vendor SSD

4x HPE 1.92TB SATA 6G Read Intensive SFF BC S4510 SSD

Intel I350-T4 Ethernet 1Gb 4-port BASE-T OCP3 Adapter for HPE

Broadcom BCM57412 Ethernet 10Gb 2-port SFP+ Adapter for HPE

2x HPE 800W Flex Slot Platinum Hot Plug Low Halogen Power Supply Kit

HPE iLO Advanced 1-server License with 3yr Support on iLO Licensed Features

HPE SimpliVity 325 Gen10 Plus v2 4.6TB Software

HPE 3Y Tech Care Essential Service
HPE STV 325 G10+ v2 4.6TB SW Support
HPE SVT for VMware Onsite SW St SVC

HPE BladeSystem c-Class 10GbE SFP+ to SFP+ 3m Direct Attach Copper Cable

Free HPE Installation and Startup Service

Free HPE Simplivity 325 HW Startup SVC

Free HPE Technical Installation Startup SVC

VMware vSphere Essentials Plus Kit 6 Processor 3yr Software
HPE Proliant DL325 Gen10 Plus (Arbiter)
HPE ProLiant DL325 Gen10 Plus v2 8SFF Configure-to-order Server

AMD EPYC 7313P 3.0GHz 16-core 155W Processor for HPE

32GB (1x32GB) Single Rank x4 DDR4-3200 Registered Memory Kit

2x HPE 300GB SAS 12G Mission Critical 10K SFF BC 3-year Warranty

HPE Smart Array E208i-a SR Gen10 (8 Internal Lanes/No Cache) 12G SAS Modular LH Controller

Intel I350-T4 Ethernet 1Gb 4-port BASE-T OCP3 Adapter for HPE

2x HPE 500W Flex Slot Platinum Hot Plug Low Halogen Power Supply Kit

HPE iLO Advanced 1-server License with 3yr Support on iLO Licensed Features

HPE ProLiant DL300 Gen10 Plus 1U SFF Easy Install Rail Kit

HPE Installation and Startup Service

HPE 3Y Tech Care Essential Service 24×7 Onsite Service

HPE Proliant DL325 Gen10 Plus V2 Support

Microsoft Windows Server 2019 Essentials Reseller Option Kit English SW
---
HPE SimpliVity
ระบบ Hyperconverged Infrastructure (HCI) ระดับ Enterprise หนึ่งเตียวครบครัน ที่ช่วยให้ application ของคุณทำงานได้เต็มประสิทธิภาพ ช่วยลดค่าใช้จ่าย ทั้งในด้านอุปกรณ์และการบริหารจัดการเมื่อเทียบกับระบบ Traditional Infrastructure HPE Simlivity ยังมาพร้อมกับเทคโนโลยี Data Protection และ Data Reduction ให้คุณสามารถทำ full backup หรือ restore VM ขนด 1TB ได้ในเวลาเพียงไม่กี่วินาที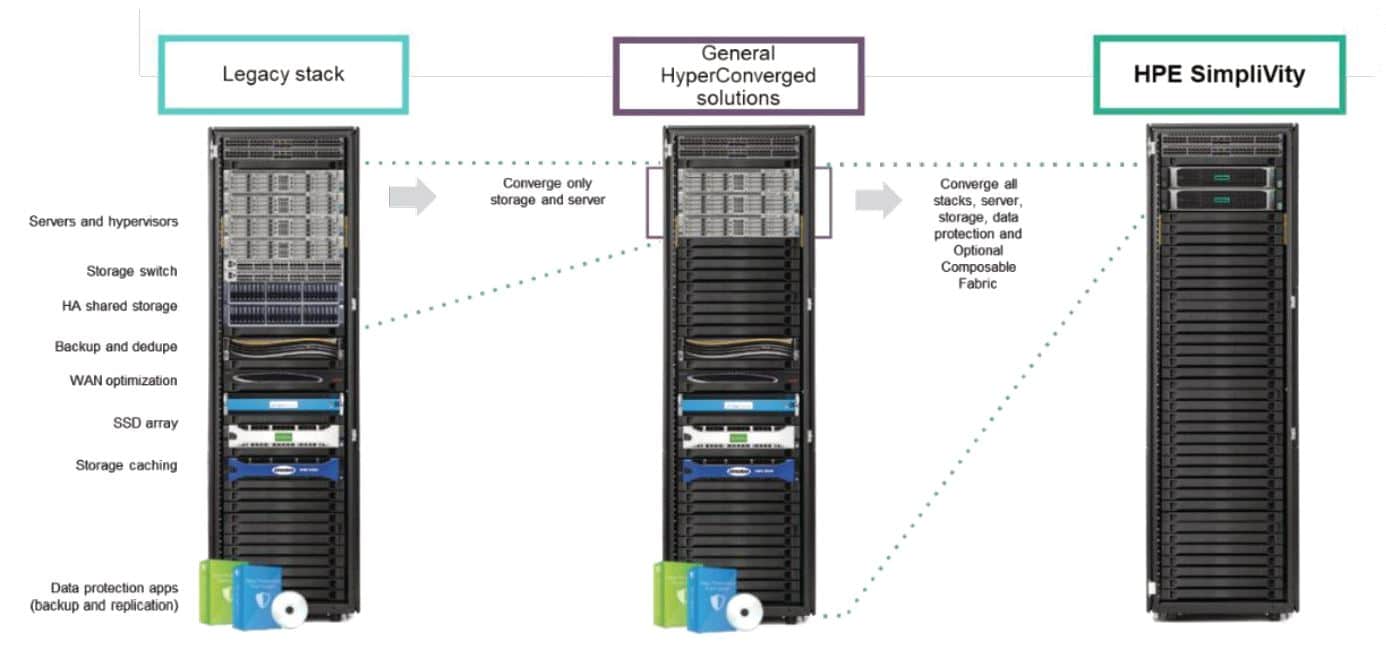 HPE SimpliVity ถูกออกแบบมาให้รวมความสามารถของ Server, Storage และระบบ Data Virtualization Platform เข้าด้วยกันแบบเป็นเนื้อเดียว ช่วยให้การจัดเก็บและการปกป้องข้อมูล ทำงาน
ร่วมกันอย่างได้ดีเยี่ยม เต็มประสิทธิภาพ ทั้งด้าน Data Protection, Data Efficient และ Data Resilience ร่วมกับ Accelerator Card ที่ถูกออกแบบมาโดยเฉพาะ เพื่อทำ หน้าที่ In-line Compress and Deduplication ข้อมูลได้อย่างมีประสิทธิภาพไม่กระทบกับการใช้งานหลักของ workload ให้คุณสามารถ Backup/Restore VM ขนาด 1TB เสร็จภายใน 1 นาที1 หรือหากคุณมีศูนย์ข้อมูลสำรอง (DR) HPE
SimpliVity ให้คุณสามารถทำการ Replication หรือ Backup/Restore VM ข้ามศูนย์ข้อมูล ได้อย่างง่ายดาย ช่วยคุณลด
bandwidth และเวลาที่ใช้รับส่งข้อมูลระหว่างศูนย์ข้อมูล เสมือนมี WAN Optimizer ในตัว โดยไม่ต้องลงทุนอุปกรณ์ราคาสูงเหล่านี้เพิ่มเติม อีกทั้งยังสามารถช่วยลดค่าใช้จ่ายของ Link Bandwidth ระหว่างศูนย์ข้อมูล ช่วยทำให้คุณประหยัดค่าใช้จ่ายในส่วนนี้ได้อีกด้วยคุณสามารถบริหารจัดการระบบ HPE SimpliVity ได้ง่ายๆ ในหน้าจอเดียวกับระบบ Virtualization ที่คุณใช้อยู่ไม่ว่าจะเป็นVMware® vCenter หรือ ircrosoft® System Center ที่คุณคุ้นเคยอีกทั้งยังเพิ่มประสิทธิภาพ Application ของคุณด้วย All-flash Storage ในราคาที่ใกล้เคียงกับ Hybrid Storage บนเครื่อง Enterprise Server ที่ขายดีที่สุดในโลก
HPE SimpliVity สามารถรองรับการใช้งานต่างๆ

HPE SimpliVity ต่างจาก HCI ทั่วๆไปอย่างไร
Fast
ทำให้การบริการจัดการ VM เป็นเรื่องง่ายและรวดเร็วแบบ VMCentric
สามารถ deploy และขยายระบบได้ง่ายๆ ตามความต้องการธุรกิจ
บริหารจัดการระบ VM ได้อย่างรวดเร็ว ไม่ยุ่งยากบน VMware® vCenter หรือ Microsoft® System Center ที่คุณคุ้นเคย
หน้าจอเดียวสามารถดูแลและบริหารจัดการได้ทุกศูนย์ข้อมูล รวม ไปถึงสาขาหรือสำนักงานในที่ต่างๆ
บริหารจัดการทรัพยากรแบบกลุ่ม และสามารถย้าย VM ข้ามไปมาได้อย่างง่ายๆ และรวดเร็ว
Application สามารถทำ งานได้อย่างเต็มประสิทธิภาพด้วยเทคโนโลยีการจัดการข้อมูลแบบใหม่ใน HPE SimpliVity
สามารถเชื่อมต่อกับ HPE OneView Global Dashboard ที่ช่วยให้คุณมองเห็นภาพรวม HPE Server ในศูนย์ข้อมูลของคุณ
Powerful
ด้วยความสามารถของ Data Virtualization Platform ใน HPE SimpliVity ช่วยให้คุณปกป้องข้อมูลสำ คัญได้อย่างมี ประสิทธิภาพ ไม่ว่าเรื่อง Data Resiliency, Backup/Restore and Disaster Recovery
ปกป้องข้อมูลเสียหายและความเสี่ยงจาก ransomware ด้วย เทคโนโลยี Data Virtualization Platform ใน HPE SimpliVity
ช่วยให้การทำ DR เป็นเรื่องง่ายและเร็วช่วยปกป้อง VM ภายในศูนย์ข้อมูลหลัก และศูนย์ข้อมูลสำรอง พร้อมทั้งสามารถทำการ Automated Fail-over ด้วย HPE SimpliVity RapidDR
กล้ารับประกันคุณสามารถทำการ Backup หรือ Restore VM ขนาด 1TB ได้ภายใน 60 วินาที (1)
ปกป้องข้อมูลสำคัญตามมาตราฐาน ข้อกำหนด HIPAA และ Sarbanes-Oxley ด้วย HPE Secure Encryption-a level-1 แบบ data-at-rest
Efficient
มั่นใจกับการให้บริการ และยังปกป้องการลงทุนของท่าน ซึ่ง HPE เท่านั้นที่สามารถให้ได้
ช่วยลดอุปกรณ์ในศูนย์ข้อมูลของคุณได้ถึง 10 เท่าเมื่อคุณใช้งาน HPE SimpliVity (2)
ช่วยลด Total Cost of Ownership (TCO) ได้ถึง 2.8 เท่าเมื่อเทียบกับระบบ Traditional IT (2) และสูงถึง 2 เท่าเมื่อเทียบกับ cloud (3)
ช่วยลดการใช้งานพื้นที่จัดเก็บข้อมูลได้สูงถึง 10 เท่า ของการใช้งานพื้นที่จัดเก็บหลักและพื้นที่จัดเก็บข้อมูลสำรอง และยังทำงานแบบ always-on deduplication and compression (1)
รองรับการขยายระบบ สามารถรวม HPE SimpliVity Gen9 และ HPE SimpliVity Gen10 ใน cluster เดียวกัน
ให้คุณสามารถเปิด support case ได้จากที่เดียว โดย HPE Pointnext สามารถครอบคลุมทั้ง hardware, software และระบบ Virtualized ลดความยุ่งยากและเวลา
สามารถเปลี่ยนการลงทุนจาก CAPEX เป็น OPEX ด้วย HPE Flexible Capacity pay-per-use ให้สอดคล้องกับนโยบายของคุณ
รองรับการ Graphic Adaptor จาก NVIDIA® GPUs สำหรับงานhigh-end graphics virtualization
---
© Copyright 2017–2018 Hewlett Packard Enterprise Development LP. The information contained herein is subject to change without notice. The only warranties for Hewlett Packard Enterprise products and services are set forth in the express warranty statements accompanying such products and services. Nothing herein should be construed as constituting an additional warranty. Hewlett Packard Enterprise shall not be liable for technical or editorial errors or omissions contained herein.
HPE SimpliVity HyperGuarantee.
Forrester Study commissioned by HPE SimpliVity, "The Total Economic Impact™ of SimpliVity Hyperconverged Infrastructure," August 2017.
Evaluator Group, "Is Hyperconverged Infrastructure Cost‐Competitive with the Cloud?" June 2017.
TechValidate independent survey of HPE SimpliVity customers.